FREE SHIPPING OFFERED

The Flora Pod is eligible to get free shipping for any order above $50!
Regular price
$67.99 USD
Sale price
$59.99 USD
Unit price
per
Sale
Sold out
Tired of guessing what your plants need to survive?

Introducing the Flora Pod™, a revolutionary heart monitor for your plants! Created by plant lovers, for plant lovers: Our patented tech sends you real-time alerts on your plant's health, including tips on moisture, light, humidity, temperature, and more!

One pod can be paired and unpaired with multiple plants.  Simply insert the sleek sensor in your plant pot and pair it with our free-to-use iOS app to get AI-driven, real-time updates.

Join a community of over 250,000 plant parents, and get those green thumbs back!
Carbon Neutral Shipping

30-Day Returns

2-day shipping Available
Plant-Saving Features

Measures:

Moisture
Temperature
Humidity
Light

🪴 One Pod can be used for multiple plants

⚠️ Get real-time, plant-specific alerts

🔋 One single 2-hr charge lasts 3 months out-of-the-box!

⛈️ Weatherproof: The Flora Pod can be used for your indoor or outdoor plants

📲 Pairs with our free-to-use Flora App to provide intelligent suggestions and plant-care guides
Specs & Packaging

Package includes:

- 1x AI-Powered Flora Pod

- 1x Micro-USB Charger

- 1x Sticker Pack

- 1x Flora Plus 1 Month Membership

- 1x Exclusive Flora Pod Digital Badge and Content
Shipping & Returns

Shipping & Cancellations:  Our standard shipping terms take anywhere from 5-7 business days to ship. Due to high demand, we may have limited inventory and will switch to pre-order batches in the near future. If you're part of a pre-order, you can cancel your order up until we ship out your Pod!

30 Day Hassle-Free Returns: We'll gladly provide a free shipping return label so you can replace or return your Flora Pod - no questions asked!
The Flora App

The Flora App provides a ton of free features to accompany your Flora Pod, including:

A plant scanner to identify your plants
Customized reminders and fertilization/repotting schedules
A community garden feed of 150,000 other plant parents
A Plant Diagnosis tool
Carbon Emissions Offsets and tracking through our own Green Impact Tracker
View full details
Goodbye, horticultural hopelessness 👋🏽
Flora takes the guesswork out of plant-care. The Flora Pod tells you exactly what you need to do, for your specific plant species. |

🌲 We plant a tree for every Flora Pod sold, and you'll get to measure the carbon emissions impact with your very own plants using our free-to-use app. More plants to make your day, and less CO2 to fight the climate crisis.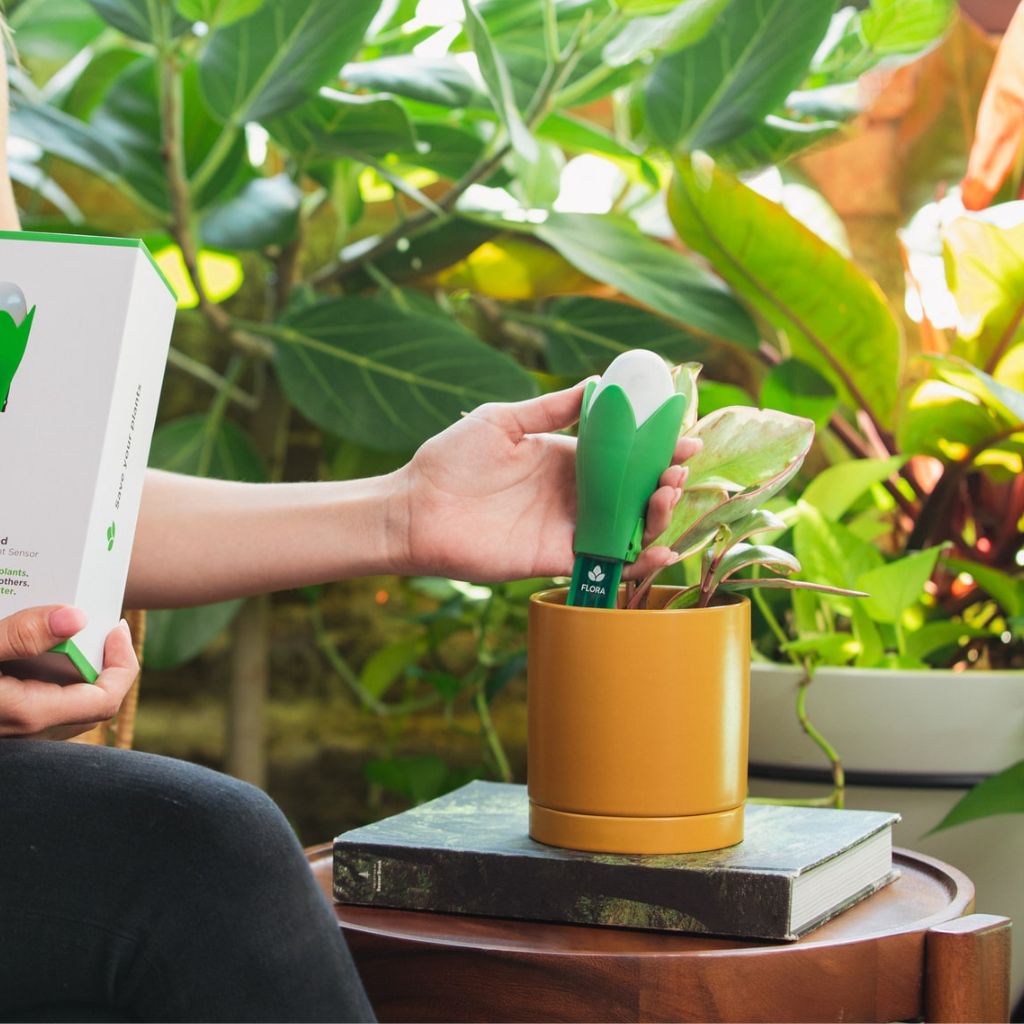 Serial plant killer - no more.
Flora Pods are designed to make it as easy as possible to monitor both indoor or outdoor plants. Throw them in a thriving garden bed, a cozy greenhouse, or your favorite Begonia, and watch your plants thrive.
One Pod = Multiple Plants
Got a jungle to take care of? No problem at all - start with just one Flora Pod and easily pair and unpair with your plants in just a minute.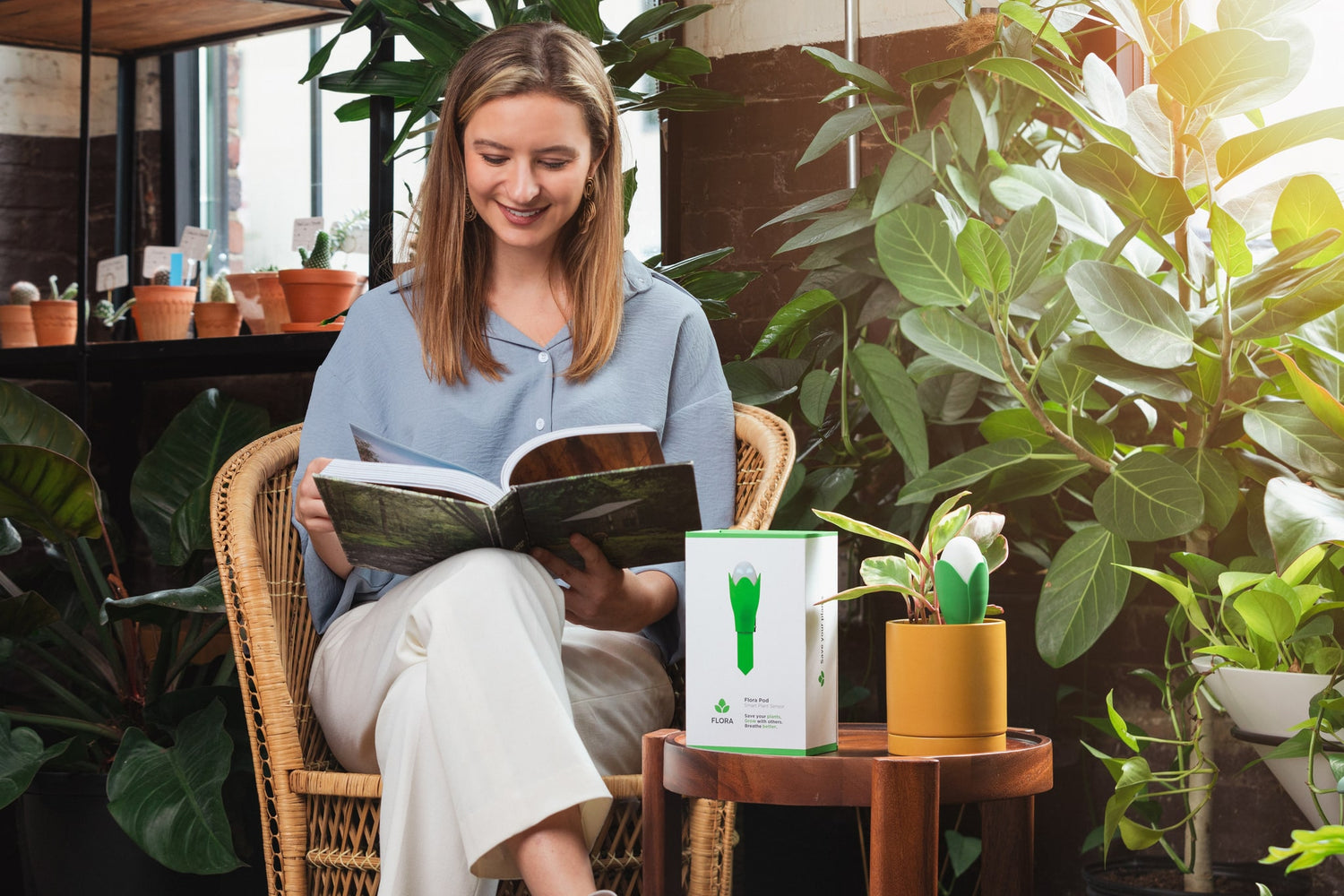 Hello, green thumbs 💚
Each Flora user saves 6 plants on average per year. Our mission is to connect millions of people with nature, through saving millions of plants.
Pair with our free plant-care app

Our free-to-use app provides watering reminders, in-depth care guides, fertilization and repotting tips, a plant identifier, a community of 150,000+ plant parents, and so much more.

Weatherproof, soil-proof, and kitty-proof

Flora Pods are designed to monitor both indoor or outdoor plants. Throw them in a thriving garden bed, a cozy greenhouse, or your favorite Begonia, and watch your plants thrive.

Detailed Care Guides

Get personalized insights for your favorite plants. Flora's magical AI will fine-tune our recommendations to your micro-climate, potting conditions, plant's long-term health, and more.

Save your plants, save the Earth

We've partnered with OneTreePlanted to plant a tree for every Pod sold. We've also partnered with Patagonia's 1% for the Planet to donate 1% of all our proceeds to environmental sustainability efforts.